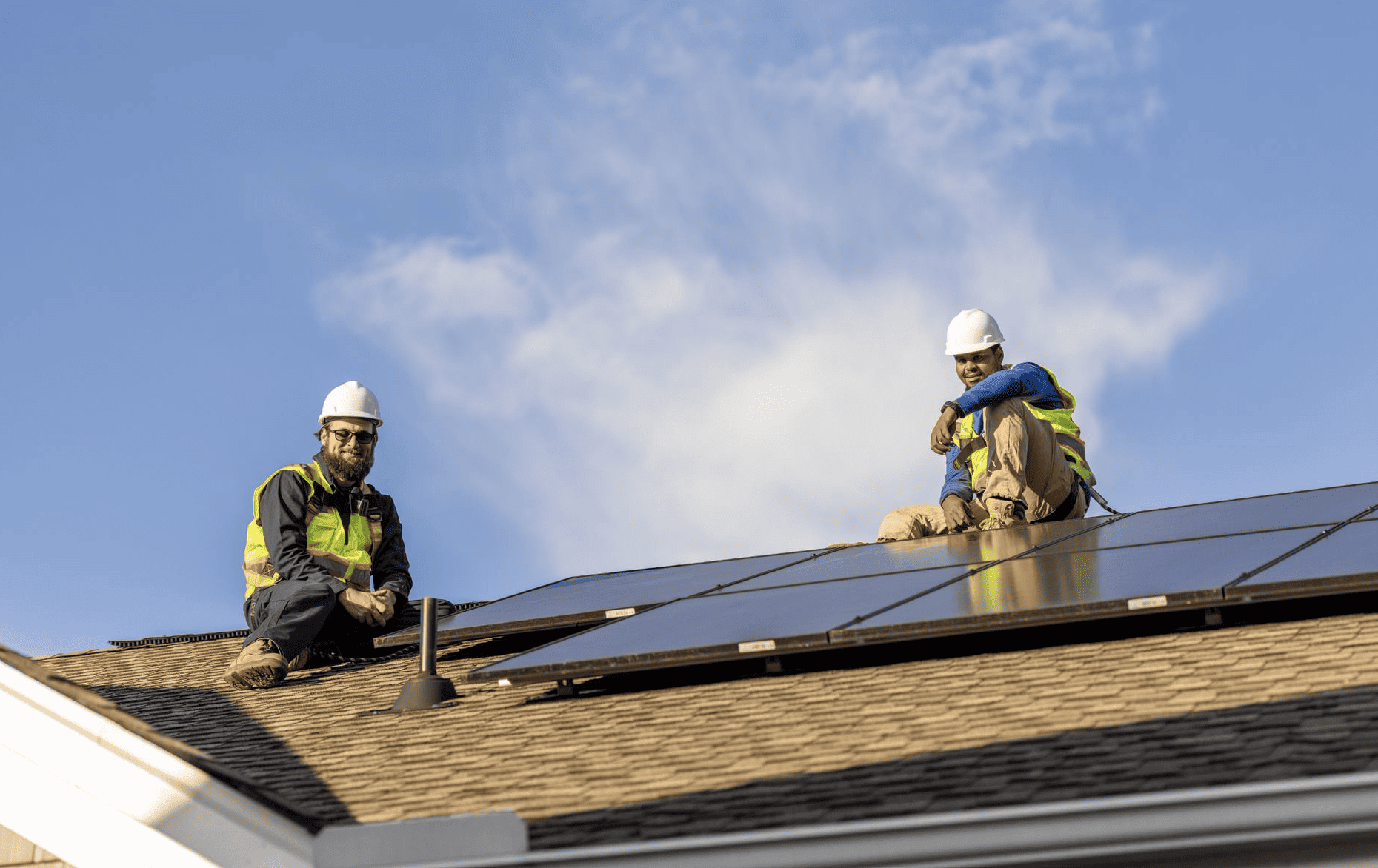 Expert Virginia Solar Panel Installation
Dominion Energy Solutions is dedicated to helping you make the most of your solar purchase by saving money, reducing your carbon footprint along the way, and making the switch seamless.
Backed by Dominion Energy, our team of Virginia-based solar experts ensure your installation, permitting, and interconnection process are done correctly the first time.
Looking for Solar Panels in Virginia?
There has never been a better time to go solar. From the Shenandoah Valley to Northern Virginia, Richmond, and Hampton Roads, Virginia is one of the best states for homeowners to transition to switch to solar. Over the past five years, solar panel and installation costs have fallen by over 45%.
Installations are projected to grow with over 3,200 MW of power estimated to be installed in the next five years. The Virginia Clean Economy Act of 2020 aims to deliver the state's utility-delivered power to 100% renewable energy by 2045 and directs the construction of 16,100 MW of solar power and onshore wind by 2035.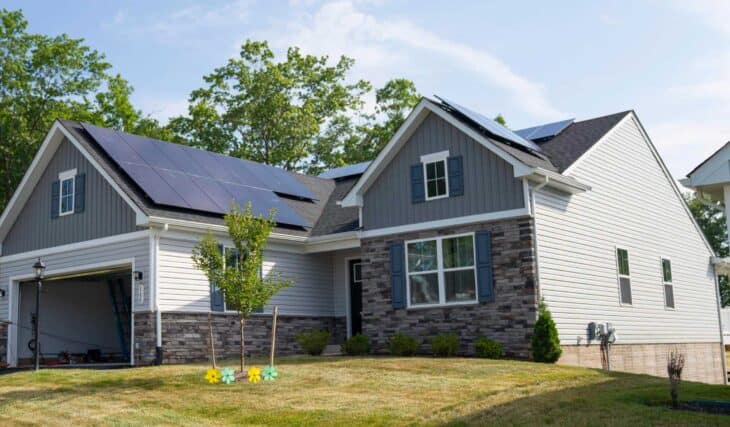 Four Reasons to Choose Dominion Energy Solutions

Full Service
From vetting installers to approving system designs to financing your system, we'll be with you every step of the way.

Save More
Our pre-screened installers compete for your business ensuring you get the right system for the best price.

Financing
No hidden fees. No bait and switch. We've cleaned up the financing for clean energy.

Go Green
Earn credits on your electric bill. Help the environment while increasing the value of your home.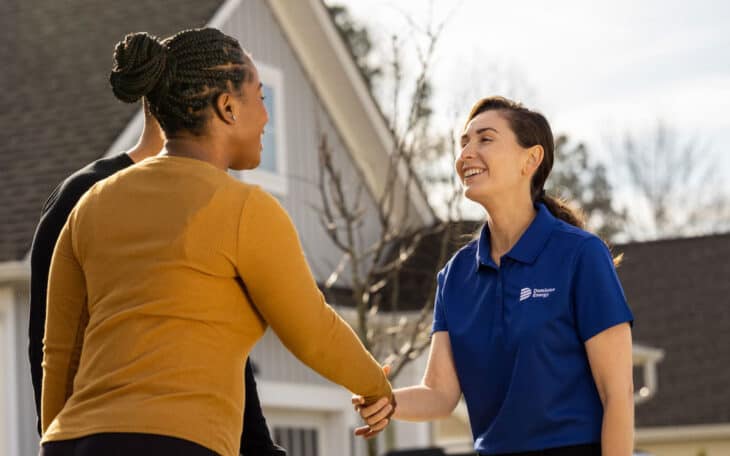 Affordable Solar
Find out how affordable solar is for your home by speaking with our no-sales, education-based VA solar team. It's easy to get started, just fill out this form to get a free quote or just get some questions answered.
Thanks to federal solar incentives, homeowners who want to own their electricity with solar can save thousands of dollars on top of their monthly electric bill savings. Many solar companies, including Dominion Energy Solutions, offer different payment options, such as loans or cash purchases. Deciding whether solar is a good option for your home can be confusing. We are here to help you make the best choice and to make your solar journey as easy as possible. Get a Quick Estimate of
Your Savings with Solar
"*" indicates required fields
Why Go Solar in Virginia?
Virginia residents live in a vibrant region with diverse seasons, pastoral landscapes, beautiful beaches, vibrant cities, and plenty of activities for outdoor enthusiasts. Recently, Virginia became the first state in the South to target 100% clean power. With a goal to have the entire state running on renewable energy, Virginia residents, policymakers and businesses are true believers in clean energy.
After a home or car, solar panels can be one of the biggest purchases homeowners will invest in. Although they might have a large upfront price tag, the investment makes financial sense as the cost to own your energy production is commonly cheaper than continuing to have a monthly electric bill.
This can save homeowners more than $30,000 across the lifetime of their system in addition to offsetting multiple tons of carbon collectively. Thankfully, local net-metering and federal solar rebates both act as incentives to make the return on investment quicker for homeowners who want a solar power system to help reduce electricity costs. Here is a breakdown of the savings available to Virginia homeowners who qualify.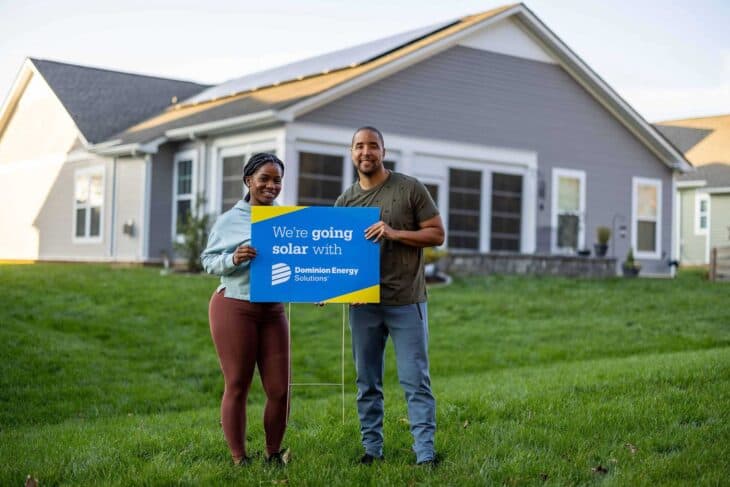 Net Metering
Virginia homeowners with solar can sell their excess electricity back to their utility company like Dominion Energy for monthly credits. This act of subtracting what you give to the grid from what you take is referred to as "net metering". Net metering is an essential incentive for solar adoption. Fortunately, Virginians have green, forward-thinking utilities like Dominion Energy who are determined to help homes and businesses make the transition. With statewide net metering laws, excess energy generated from solar panels become credits that can be applied to your next month's bill or roll over to future months. To make things even better, Virginians can sell the excess electricity back at the end of a 12-month period by entering into a power purchase agreement (PPA) with Dominion Energy Virginia.
Property Tax Exemptions
Because of legislation passed in 1977, most counties in Virginia allow residential solar panels to be exempt from property tax increases. This means that any extra value added to your home because of your solar panel system will not be added to your annual property taxes. However, municipalities have the ability to control this legislation so each Virginian must research whether property tax applies to their new system beforehand.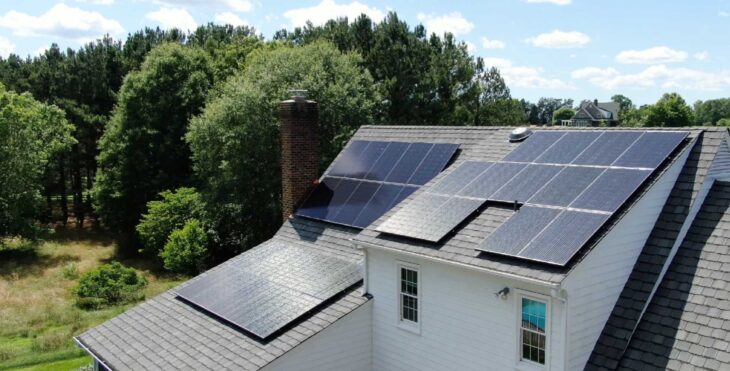 Our Services
Free Solar Education Calls
Customized Solar Designs
Competitive Financing Packages
Residential Solar Installation
Commercial Solar Installation
Solar Panel Warranties
U.S. Manufactured Solar Panel Equipment
Battery Storage Solutions Choosing the Best Solar Company in Virginia
No pushy sales tactics, no bait-and-switch; Dominion Energy Solutions was created to help people decide if solar panels are the right investment for their home or business. Each customer is paired with a solar advisor to help consider the switch to solar. Our number one priority is customer satisfaction, which is why our certified installers have been successful in installing solar for over 2,000 residents and businesses across the Commonwealth. Every installation is built to our standards with materials backed by the best warranties and production guaranteed in the first year.
We Work To Save You Money
Our Virginia customers can save anywhere from $10,000 to $50,000+ over a 30-year period depending on the size of their system and their current home energy use. You'll start by having conversations with our Richmond-based sales team who will understand your needs and create a custom quote to meet your energy needs.
Once you are satisfied with the proposal, we'll connect you directly with one of the local installers – all of whom have been vetted and approved by Dominion Energy – who will then meet you at your home to confirm the installation plans. From there, they handle permitting and construction so that you will be generating your own energy in no time. Our team is here for you every step of the way should any questions come up or you run into any problems.
Top-of-the-Line Solar Panel Equipment
Dominion Energy Solutions customers deserve the best solar experience, so we offer only one level of quality: the best solar panels available. Our solar arrays are built using only high-end tier one black-on-black, mono-crystalline silicon solar panels and Enphase micro-inverters. Both come with a 25-year manufacturer's warranty. When going solar you want high-quality productions at a low price. Going solar with Dominion Energy Solutions means you get maximum value, service, and expertise all backed by Dominion Energy.
What to Expect When You Contact Dominion Energy Solutions
We'll use satellite imagery to examine your home's roofing type, angle, shading on the roof, and document any potential obstructions.
From there, we'll ask you to provide us with your most recent electric bill. This bill will provide us with how much electricity you use every month for the past 12 months. This data is critical for us to design a system that is appropriate for your current and future energy usage.
After we verify that your home or business is a good candidate for solar panel installation, our design team will work with you to create a maximum efficiency plan for your roof. We will be able to answer any questions that you may have about the solar panel installation process, solar tax credits, and our payment and financing options. Once you decide which financing option is best for your family, you will have plenty of time to review the contract, terms, and warranties to ensure you are happy.
With signatures in place, our licensed installers will work directly with you to find times that are convenient for us to install your solar panels.
Before you know it, you will be enjoying your savings and producing clean energy with your solar panels!

Going solar is an extensive process, and Dominion Energy Solutions makes sure that the homeowner is educated every step of the way. We prioritize making the process as seamless and easy as possible, and our production guarantee ensures your installation will generate at least 90% of what we have originally estimated or we will compensate you for the difference.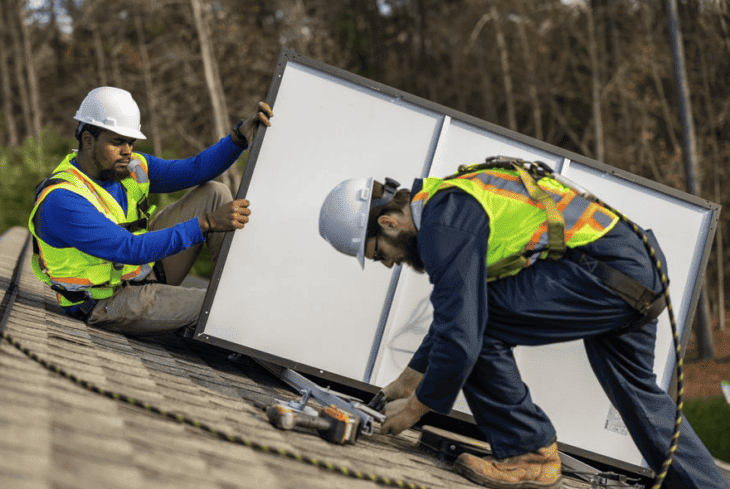 Custom Quote Tailored To Your Energy Needs
Our experts are ready to create the perfect solar system with your energy needs and finances in mind.
Quick Solar Panel Installation
Driven by an experienced team and unmatched customer service we promise fast installation times, permitting, and interconnections. For every customer, we design a custom system to meet your current and future energy needs specific to your roof size. We use the latest satellite imagery and 3D modeling tools to create a personalized analysis of your energy needs. Your solar installation project will never "sit" in our pipeline.
We Make the Switch Seamless
From the first meeting to flipping the switch on a working solar panel system, our licensed installers have helped over 2,000 VA homeowners and businesses. Our field service teams handle building permits, inspections, and every stage of the solar panel installation process. You just sit back, and watch your electric bills go down while your system produces energy from the sun. Your commitment to clean energy and protecting our environment with solar energy, ensures we are committed to making sure going solar is fast & easy.
Dominion Energy Solutions is Your Local Solar Company
Unlike other companies that sell in Virginia, our entire team is based here in Richmond! And given we are backed by Dominion Energy, you can rest assured we're not going anywhere for the lifetime of your system. We live here, understand the needs of local residents, and recognize you expect fast, professional, and affordable panel installation and net metering certification.
Our direct connections with cities and counties result in quick solar permitting turnarounds. We will also make sure your home is prepped to pass required inspections and ready to quickly connect with local utilities, Dominion Energy or otherwise. We'll take care of everything from financing to installation and the energization of your solar panels, so you can sit back and watch the savings come in.
Depending on your city, it can take between 6-12 weeks to get panels installed on your roof, followed by about 4 weeks to get interconnected with your utility to enjoy the benefits of net metering. The longest step is getting approved permits from your city. We work with your city or county to expedite the permitting process so you can enjoy the benefits of going solar as soon as possible.
Our Commitment to You
Our mission is to make homeowners' lives better by reducing their energy bills, transitioning to clean and abundant renewable energy, and by providing a world-class customer experience through a no-hard-sell sales process along with a speedy, dependable, high-quality installation backed by Dominion Energy.
With more than 2,000 residential installations across Virginia, our installers set the bar for quality in the state and set us apart from the rest of the solar industry.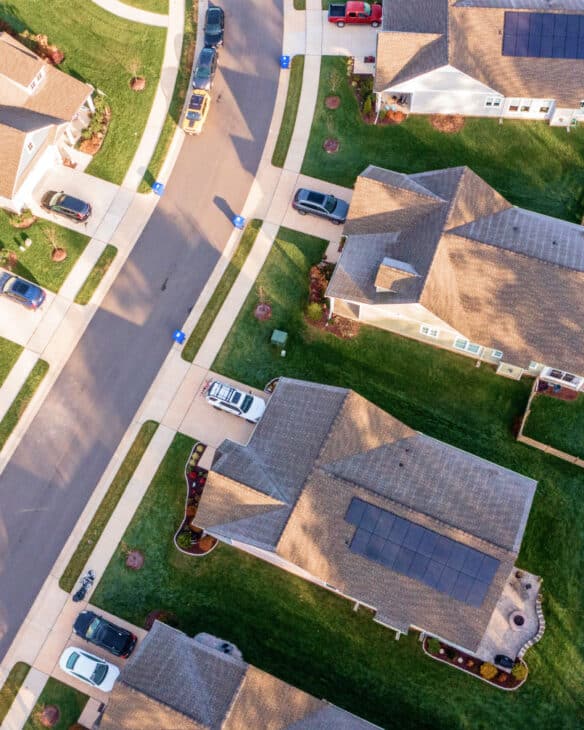 Dominion Energy Solutions
600 East Canal Street, Richmond, VA 23219
(833) 793-0882
Hours: Mon-Fri 8am – 5pm