Switching To Solar 
When you're looking to switch to solar energy, it's important to take time to research your options. Similar to purchasing a home or car, it can be one of your largest investments.  Although it is a considerable decision, taking the time to research and investigate should not be stressful nor overly complicated.
That's why the Dominion Energy Solutions team is happy to provide potential customers with answers to all your questions when looking into making the switch to solar.
Why Should I Go Solar?
There are many different reasons why homeowners decide to switch to solar, but the vast majority initially do it to cut on their utility bills. However, many homeowners later realize that switching to solar can enable you to control your electricity bill and increase your home value at the same time.
In several states, solar system owners can sell their excess electricity produced. This is called net energy metering. It is also worth mentioning that another reason why people are switching to solar more is due to the lower environmental impact as well as the creation of a huge amount of jobs in the United States. So a win-win situation! Whichever is your main reason to switch to a greener energy source like solar, the answers below will give you extra insight on the matter.
Is My House The Right Fit for Solar Energy?
This is probably the most important question on the list as it can directly affect the expenses and savings generated by the solar energy system.
Although it is not the easiest question to answer as there are several factors and specifications to keep in mind, we listed below the three main things to consider to help you understand if solar is indeed a good fit for you and your property: 
How much sunlight your roof receives every day.

If your roof has a lot of shade, then perhaps it is not ideal.

Your roof direction. Southern-facing roofs receive more sunlight than northern-facing ones, so it's advisable to set up a solar system on the former rather than the latter.
How much electricity costs in your area. The costlier the bill, the more money you can save when switching to solar. 
Ideally, your property ticks all of the three boxes above, which then makes it a perfect candidate for solar energy.
Is My Electricity Bill Expensive Enough to Justify Switching To Solar?
Even if you have the ideal property to install solar, if your electricity bill isn't high enough, it may not justify the switch to solar energy. We recommend potential solar customers with higher bills than $75 a month to look into solar energy as financially it makes more sense. The higher the bill, the quicker the system will pay itself off. If your household is not using a lot of electricity, then solar may not be the best option for you to realize utility bill savings.
How Should I Pay For My Panels?
There are different ways to pay for and finance your solar panel system; the most common in Virginia being solar loans and cash purchases. Before committing to any financing option, it's important for your to and assess your budget and future solar savings. 
How Much Will I Spend On Solar?
How much you can save depends on how much electricity your property consumes and how much available space your roof has for solar. Because of roof layouts and orientation savings will differ even if two homes have similar energy expenses. It is not very straightforward to estimate an exact quote without specific details and assessment. 
Reputable solar companies often calculate this estimate based on how much you paid in utility bills for the last twelve months. This also depends on whether you're using a sun tracking software to confirm what solar system size is required by your property to offset 100% of the energy consumption. 
It is important to keep in mind that it is not necessary to buy a solar system that offsets the full 100%. Often you can customize the system to produce a smaller percentage of electricity, ideally more than 25% up to 100%. Additionally, the price of solar energy can be affected by the providers. 
How Much Can I Save If I Switch To Solar?
It's important to work out how much savings you can generate before installing a solar system. Luckily, here at Dominion Energy Solutions we would be more than happy to help you determine that! First of all, keep in mind that it's several factors that determine the total amount of savings. Secondly, if you decide to buy the system, you are entitled to the federal solar tax credit. This is an excellent incentive that allows you to take 30% off the total cost of your solar system and use it as a tax credit for the following year. 
For example, if your solar system costs $20,000, you can take $6,000 off your next year's federal income tax bill. Also, how you finance your system can affect the amount of savings. If purchased through a loan, the loan would usually be less than your electricity bill, helping you save on your energy budget each month.
What Type of Panels Are The Best?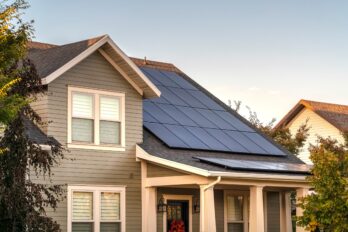 With solar technology evolving more every year, solar panels now come in different sizes, efficiency and power production. It's important to do proper research before committing, without focusing too much on looks rather than technology. Obviously aesthetics can play an important part, especially with different options of panels such as blue, black, or mounted.
The most common manufacturer brands like REC, Silfab, Axitec, LG, Tesla, Jinko, and Trina, are usually the ones considered of highest quality and efficiency. It's important to consider the KwH (kilowatt-hour), which is the amount of kilowatts a panel will produce when exposed to sunlight.
Usually the higher the number, the more the panel will cost. In terms of quality, Dominion Energy Solutions only offers the highest quality panels for our customers. 
How Long will My Solar Panels Last?
Because solar panel technology has improved so much in the last decade, it's hard to know exactly how long your panels will last. For the most part, the majority of solar companies claim that their solar panels will produce at a profitable efficiency for at least 25 years. This means that over time your solar panels will suffer a slight degradation, which is about 0.8-1.2 percent per year of original efficiency.
The degradation is often caused by dirt, pollen, and other external factors, so it is important to remember to clean your panels every once in a while. Although your panels will become slightly less efficient over time, it's important to remember that the degradation won't be significant until after several decades of high efficiency production.
What Makes A Solar Company Trustworthy?
We understand that finding the best solar company isn't easy especially with so many new companies popping up every year. Shopping around takes time and effort and confusion and doubts can arise.
Rest assured that with Dominion Energy Solutions, you are in capable, expert hands that will guide you every step of the way in making the best decision with a solar system. We never use pushy sales tactics or pressure you into making a decision. Our goal is to provide customers with all of the facts in order to make an informed decision that is best for their family. Our customers are of utmost importance and we want to ensure they have a stress-free solar experience every step of the way.
What About Warranties?
A reputable solar company will provide customers with energy, workmanship and panel warranties. If you're considering adding solar panels to your home, Dominion Energy Solutions offers best-in-class warranties on all their systems. Our production warranty is for 25 years from our panel manufacturers, and we offer a 10-year workmanship warranty from all our licensed installers. Additionally, we offer a 1-year production guarantee. If your system production doesn't match our estimates, we compensate you for the difference.
Contact us today to learn how you can take advantage of Virginia's solar incentives!