Solar Panels Boost Resale Value
According to the Solar Energy Industries Association, more than 2 million solar photovoltaic (PV) panels have been installed across the USA. These panels are able to produce enough solar energy to light up more than 13.1 million homes. It has been predicted that by 2024, this number will double.
This boom in solar energy systems installations is mainly due to decreasing costs associated with installations and components in the last decade. Moreover, new initiatives such as financing, and zero-down purchase deals have made renewable energy more accessible to property owners. The neighbor effect is growing, where the social status of switching to a sustainable and cleaner energy source is becoming more attractive.
The main two reasons for property owners to switch to solar energy are to be more environmentally-friendly and reduce their electricity bills. But does this switch also increase the value of their homes?
Yes, it does. According to several studies, such as the 2015 ones by Lawrence Berkeley National Laboratory, which show that potential buyers would be prepared to increase their spending budget by $15,000, should the property have solar panels installed. Also a 2019 case study by Zillow discovered that homes equipped with solar panels are 4.1% more likely to be sold. It has also been found by the U.S. Department of Energy studies that having solar panels installed can raise a house's value by $20 for every $1 in utility savings per year.

Source: SEIA/GTM Research U.S. Solar Market Insight
U.S. Solar Power Generating Capacity 2010 – 2021
However, there are several points that influence the resale value of a property with solar panels installed such as when the system was installed, its size, whether it's leased or fully-owned, whether federal or municipal incentives are available, the rates or restrictions of the electricity companies in the area, and so on.
Dominion Energy Solutions can help and guide you to make the best decision regarding solar panels for your home.
Do Solar Panels Increase Resale Prices?
According to the 2006 National Renewable Energy Laboratory (NREL) study, it has been found that installed solar panels to your home can increase its value by roughly $15,000 (which equals to $4 per watt), even if the system is medium-size. Bigger homes could increase their value by nearly $30,000, making switching to cleaner energy even more appealing
It is important to remember that to take advantage of these incentives, the solar energy systems need to be owned, not leased. Property owners who have leased their solar panels through a Power Purchase Agreement (PPA) can still make the most of a cleaner, cheaper energy source without the need to finance a full system upfront. However this makes it all more complicated when reselling the property as the incentives are not as appealing as if the system was owned outright.
Panels Without Financing
Zillow conducted a study back in 2019, discovering that properties with solar panels installed are 4.1% more likely to be sold than those without them. This could mean an extra value of nearly $10,000 for a medium-size property.
Mortgage lenders such as the FHA define a solar PV system as a 'Special Energy System' and it needs to be included in the property assessment for all homes on sale. This leads to lower electricity bills and higher home value: a win-win for the homeowner thinking of selling his house.
Power Purchase Agreement Panels
Signing up for a PPA (Power Purchase Agreement) means that the property owner works with a solar energy developer to install a solar panel system for a certain amount of years, usually up to 25. Usually the developer would supply electricity to the property at a lower rate than utility providers, but it still means that the homeowner doesn't own the system and will not benefit from any tax credits or energy credits (SRECs) as these will go to the developer.
Similarly to leased solar systems, these PPA systems are still not included on mortgage documents as real property assets. Thankfully though, a PPA system can be transferred when selling a home and it does increase the property value. The value of this PPA system can be determined by comparing similar properties for sale in the area. As always, depending on the area, the PPA system could generate higher property taxes.
PPAs have been developed by major businesses and municipalities across the state of Virginia. Facebook has recently created one to power it's server farms located throughout the state, and the cities and counties across the state including Bath, Arlington, Albermarle, Middlesex, Augusta, the City of Richmond, and the City of Harrisonburg, among others, have established PPAs to power schools in their respective districts.
Panels Financed With Another Loan Type
Solar system installations can also be financed with a second mortgage from a bank, a personal loan, a Fannie Mae HomeStyle Energy mortgage or different suitable sources. Proof that the seller has satisfied the conditions of the loan would often be required from a home buyer before the property has been sold
Do Solar Panels Increase Property Taxes?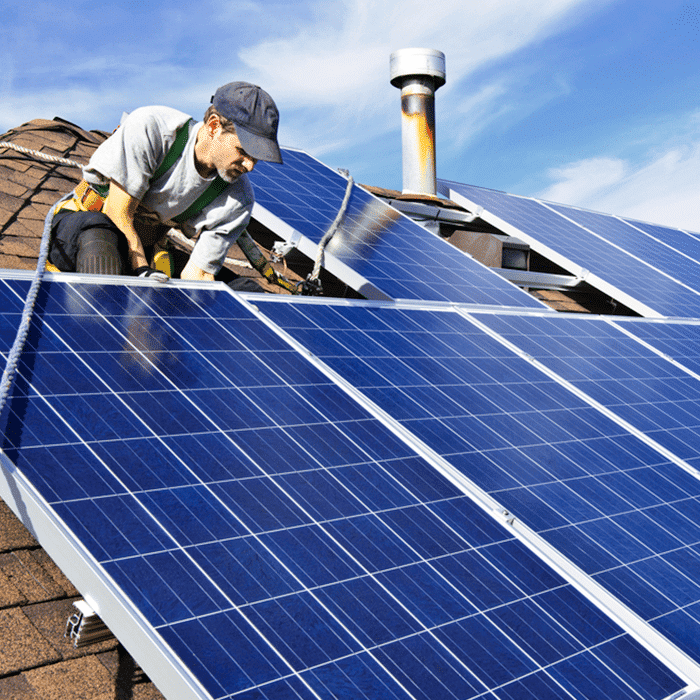 Usually, a solar panel system shouldn't increase property taxes that need to be paid, although technically it should as a solar energy system increases your property value, and these taxes are based on appraised value. This applies to other home improvement projects like installing a swimming pool, converting rooms etc. This isn't the case for solar panels though, as governments are pushing to promote renewable energy sources such as solar.
Solar is considered personal property and many jurisdictions in Virginia provide a personal property tax exemption for solar systems. We recommend consulting with your tax accountant on the impact of solar on real estate tax resulting from its increase on your real estate valuation.
States can promote solar using one of several strategies:
There are some different strategies that states within the US can use to solar energies:
Excluding solar panels from property appraisals
Excluding home solar installations from property taxes (currently more than 30 states include them, and they're a variety of open-ended exemptions or for a specific number of years, usually from 5 to 25) Including the solar panels in the appraisal but providing an incentive to cover for the increase in the property tax (abatement)
In several states with incentive programs, such as California and Virginia, the state tax law doesn't allow property tax to increase if the appraisal includes solar panels. Additionally, some US governments have been offering further tax exemptions, depending on the location. These can range from energy bonds, to weatherization or discount programs for families who share solar system installations.
There are 36 states in the US that are currently providing property tax exemptions and 25 are offering sales tax exemptions for solar energy, like Colorado, New Jersey, Arizona, Nevada and more. These incentives can have an extremely positive impact on the property owner's tax bills, even if not strictly linked to property assessments. Some states also offer incentives focusing on commercial solar panel installations, that is for systems that generate more than 250kw. Incentives for government buildings are currently being developed by governments, offering private developers tax benefits if installing PPA systems. Scroll down to see what incentives are available under Resources.
How Much Do Homeowners Spend on Solar Systems?
Roughly 67% of the cost of buying and installing solar panels goes into labor, permits and general overheads (soft costs), whilst the remaining 33% are costs covering the equipment itself, such as panels, batteries, inverters and wiring.
The price of installing a solar energy system varies depending on the type of panels, the size, the type and quality of inverters and batteries, not to mention the different costs of labor around the USA. Generally, it is more reliable to compare prices per watt when determining solar installation costs.
The price of installing a solar energy system varies depending on the type of panels, the size, the type and quality of inverters and batteries, not to mention the different costs of labor around the USA. Generally, it is more reliable to compare prices per watt when determining solar installation costs.
Solar PV Price per watt

Source: SEIA/GTM Research U.S. Solar Market Insight
Solar Home Value Resources
Database of State Incentives for Renewables & Efficiency
DSIRE is an online website to find incentives for solar and energy-efficient appliances. DSIRE is part of the U.S. Department of Energy.
Paying For Solar – Tips For Financing a Residential System
Energy.gov provides useful and consumer-friendly information regarding renewable and cleaner energy such as solar, with excellent advice on how to choose and finance the best solar system.
National Renewable Energy Laboratory
This is a research and development laboratory supported by the U.S. federal government, NREL gives excellent information and resources on solar energy, such as reviews of the basics as well as updates on the latest findings and research.
Open EI
Open EI is an online source for information on electricity rates for any of 3,700 utilities across the U.S. — it's super easy to use, you just fill in your zip code and you can find your rate information.
Price Premium Analysis of a Multi-State Dataset of Solar Homes (2015)
Probably the most detailed analysis available of the impact of solar energy systems on property prices, taking into account different locations and ownership type — purchased, leased, PPA — developed by Berkeley Labs for The U.S. Office of Energy Efficiency and Renewable Resources.
Solar Energy Industry Association (SEIA)
Being an industry association, SEIA has been promoting cleaner, solar energy in its literature and lobbies government and business groups. A very thorough website in terms of data available, some of the most detailed one only available to members
Solar Panels Quote For Virginia Residents
Ready to take the next step to lower your energy costs and increase your home value?
Contact us today to find out the best options available for you. Dominion Energy Solutions offers free solar quotes tailored to your needs and your requirements.