Level 2 Charger Installation
How To Choose an EV Charger Installer
It's important to select a qualified electrician to install your home's Level 2 charging solution. Dominion Energy Solutions helps you through every step of the process, so you can rest easy knowing you'll get the best equipment and installation service for your home.
Dominion Energy knows a thing or two about quality electric equipment and installation.
Dominion Energy Solutions Certified Installers have the following qualifications:​
Expertise
Dominion Energy Solutions has verified that every installer in our network is fully certified and highly qualified to complete EV charging installations. This ensures all our installers are thoroughly prepared to install your home charging solution safely and efficiently.
Licensed and Insured
Dominion Energy Solutions has verified that all installers in our program have the necessary state and local business licenses and insurance policies in place, and we regularly check to ensure compliance.
Track Record
Certification, licensing, and insurance are not the only ingredients to ensure great results. Our team has been installing residential and commercial Level 2 chargers across the state of Virginia for years and understands that every house is unique in terms of wiring and location for installation. This experience goes a long way to ensuring you get the right solution for your EV needs.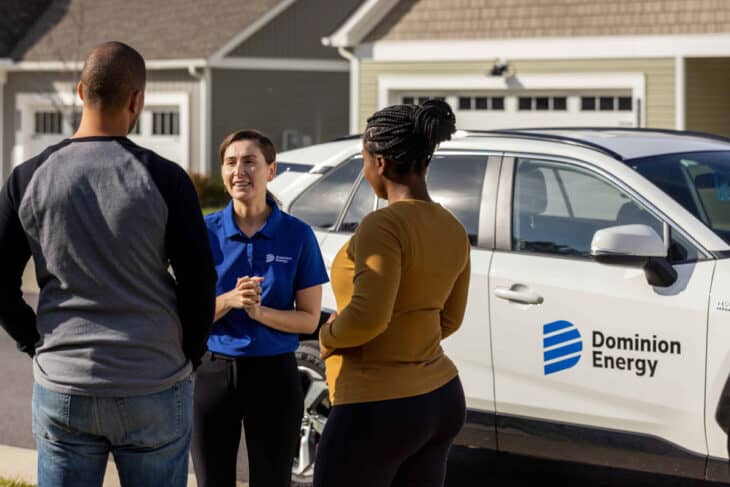 Work With Dominion Energy Solutions Certified Installers
Learn more about the process of working with Dominion Energy Solutions installers, or fill out the form below and a Dominion Energy Solutions specialist will reach out to get the process started.
Become a Dominion Energy Solutions Certified Installer
The best independent Level 2 EV Charger installers across Virginia are signing up to become Certified Dominion Energy Solutions Installers. Contact us if you would like to learn more.
---
Find Out if EV Charging Is Right For You
Fast, friendly, and completely private. Let us know a bit about you so we can explore options together. Read more about how to charge an EV at home.