Are you a new EV driver looking for Charging Solutions?
Whether you're a new EV driver or considering purchasing an EV in the future, electric vehicles provide major benefits over internal combustion engine (ICE) vehicles. They have lower maintenance and fuel costs and are more environmentally friendly than ICE vehicles. Plus, EVs eliminate the need for oil changes and gas station fill-ups and are fun to drive.
The transition to electric vehicles requires you to think a little differently about how you fuel your vehicle, as you'll power your car with electricity rather than gas. Make sure you check with your electric company to see if you're eligible for financial benefits, as many companies offer incentives for electric vehicle charging.
Here are the three major types of charging: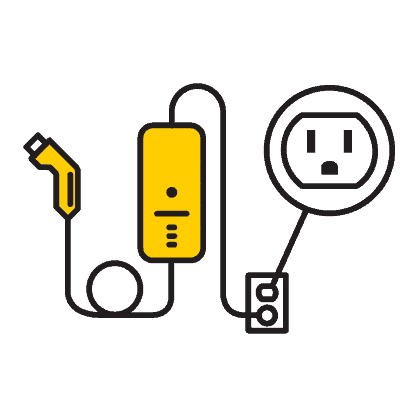 Level 1 Charging
Charge your car with a 120V circuit using a standard outlet, either at home or on-the-go. Your car comes ready to accommodate Level 1 charging at home. Typically, Level 1 charging adds 2 – 5 miles per hour.* Depending on your car and state of charge, it takes about 4-6 hours for a full charge.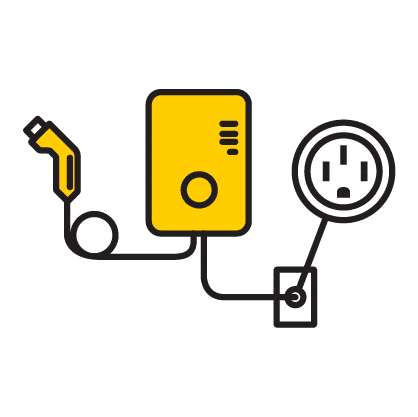 Level 2 Charging
Charge your car with a 240V circuit, either at home or on-the-go. More than likely, you will require additional equipment and an installation service to make your home ready for Level 2 charging. Typically, Level 2 charging adds about 10-20 miles per hour. Depending on your charger's power, your car, and your car's state of charge, it will take about 4-9 hours for a full charge.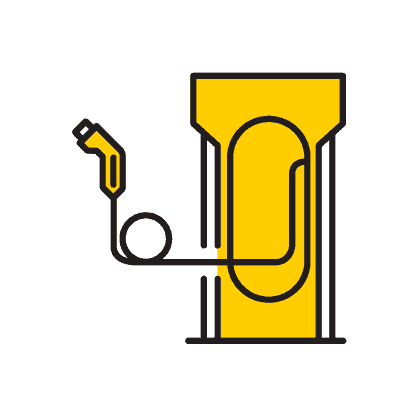 DC Fast Charging
When you are on the road, stop by a fast-charging station for a quick charge. DC fast charging can add 60 miles per 20 minutes*. Depending on the charger's power, your car, and your car's state of charge, it will take about 30-60 minutes for a full charge.
Did you know… that more than 80% of EV charging happens at home?
If you decide to get Level 2 charging at home for convenience and cost savings, here are the key steps you might take:
Select and/or purchase the electric car that best meets your needs
Choose a home charging solution that works for you
Get a quote from a local electrician for charger installation
Order and receive your charger
Electrician completes the installation at your home
Charge at home!
Dominion Energy Solutions for EV Charging Solutions
We are your one-stop shop for Level 2 charging station installation. We can help you choose the right equipment for your needs, order and deliver the equipment to your home, facilitate the high-quality installation service at your home, and provide financing options if desired.
Complete the form below to learn more about our EV charging programs. Contact us at 833-793-0882 for more details.
Sources:
EPA: https://www.epa.gov/greenvehicles/plug-electric-vehicle-charging/