Ensure the Safety and Comfort of your Home with Smart Technology
By taking advantage of smart technology, you can turn your home into a smart home. A smart home is a home that uses technology to automate home processes and systems. Your home does not need to have these features built-in. There are several smart technology features you can use to turn your home into a smart home which can enhance the safety, convenience, and comfort of your home.  Below, we'll talk about a few of these features that are simple to add to your home to provide home automation capability that fits the busy schedules of you and your family.
1. Smart Thermostat
Imagine your home's thermostat working for you, pre-heating or pre-cooling when you're not home.  A smart thermostat helps make automatic thermostat adjustment a reality. A smart thermostat can be set-up and programmed to respond to occupancy in the home and current weather conditions and adjusts accordingly. Through this technology in the BrightSuite smart thermostat, you can save on energy costs and be alerted to any potential maintenance requirements for your HVAC system with a monthly Heating & Cooling Health Report which can help identify and get ahead of any costly repairs. Learn more about the BrightSuite smart thermostat to see how it can integrate into your home.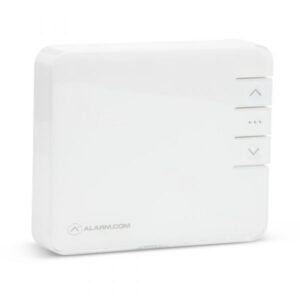 2. Smart Lights
Smart lighting allows you to adjust your lighting by dimming or turning off when you've  left the room or the house entirely. Conversely, you can have lights turn on at certain times or  when you're coming home, with the help of smart lighting. The BrightSuite smart light bulb is a long-lasting LED light bulb that allows you to easily transition various lights throughout your home into smart lights. Your BrightSuite smart lighting is dimmable as well; with the BrightSuite smart plug-in dimmer, you're able to adjust and dim any standalone light. The outdoor light switch is the perfect option for holiday lights since you can schedule the twinkling  lights to turn on at a certain time of day.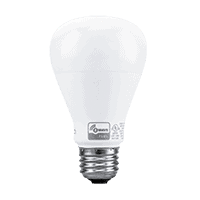 3. Smart Door Locks
If you've ever left the house and wondered if the front or back door was left unlocked, a smart door lock can help. Smart door locks can improve your home's door locks with added measures of protection at your home's entry points for the safety of yourself and your family. If you're not sure if you locked the door, the BrightSuite smart door lock allows you to remotely lock or unlock the door from the BrightSuite app. The BrightSuite smart door lock can be used with both a traditional key and with keypad entry allowing your family members to open the door with the keypad if they are locked out. This helps you avoid hiding the house key outside where others could find it.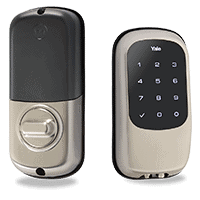 Convenient Adjustment of your Smart Technology Features
Through the BrightSuite app, you have control over the smart technology in your home to make leaving and returning home hassle-free and customized to the needs and lifestyle of you and your family. These smart tech features are also compatible with voice assistants for even further home automation. Find out which voice assistants are compatible with BrightSuite smart technology features.
—
Learn more about BrightSuite smart technology features for your home to improve the energy usage, safety and convenience for your home. Contact us at BrightSuite today to get you one step closer to a more hassle-free residence with BrightSuite smart features.